THE NEW SERVICE
FOR REGIONAL INFORMATION SHARING
FOR THE JOINT CONTENT PRODUCTION OF INFO DISPLAYS

What is Pop-Up-Possibilities?
1. Information channel for all activity providers.
You can use the screens connected to our network free of charge. Share announcements about various activities such as jobs, study opportunities, hobbies, events, and volunteer work.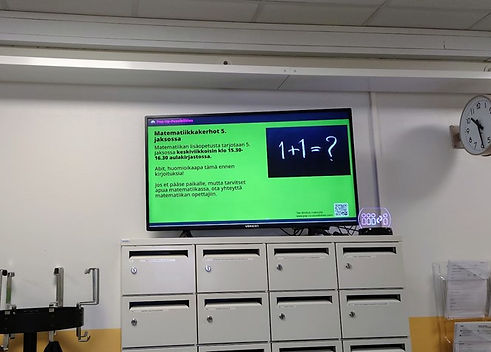 2. Service for managing your info screens. 
Screen management should be easy. Here is the solution! With our service, you and your selected personnel can add information to your screen in a simple way.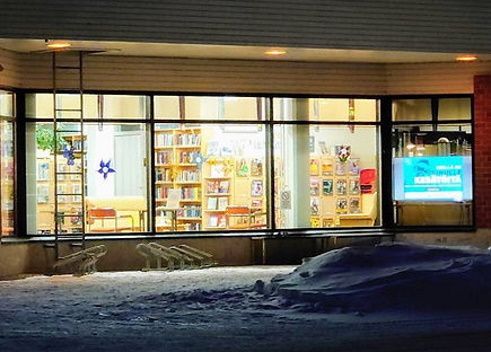 3. Important players in our society!
Be a part of creating a new information channel in our society. By joining our network, you offer your community a channel to inform and get information about various activating opportunities.
1|
INFORMATION CHANNEL
​​Through our service, you can share an announcement about the opportunity you offer easily, quickly and free of charge. The announcements appear in publication places with a high visibility value. We create publication spaces in cooperation with municipalities, educational institutions, event organizers and business companies.
The task of the Pop-Up-Possibilities service is to support encounters between individuals, communities and topics that increase the well-being of our society.​​
Jobs, study opportunities, services, hobbies and voluntary activities deserve the best visibility in physical and digital meeting points. The best visibility combined with content production available to everyone creates new connections between people and communities.​​
How do you post an ad in our network?
2. Create a community that posts announcements.
3. Make a publication. You can use a ready-made notification in image format or make a notification in our service.
4. Select the publication locations you want.
5. Choose an end date for your publication. Max 4 weeks.
6. Publish. You will receive information about the approval of your publication in your e-mail.
7. After approval, your ad will be displayed until the day you choose. If necessary, you can modify the notification.
2|
EASY-TO-USE MANAGEMENT SERVICE FOR YOUR OWN SCREENS ​
The newest Pop-Up-Possibilities feature is free for you to use!
Do you post on social media? Managing your display is now just as easy! You can retrieve a ready-made image from your file, decide how long it will be visible and publish it on your screen. So you can use a ready-made announcement or make a customized announcement in our service.​​
You can also decide which members of your community can post on your screen.
If you want to share the publication also on other screens connected to our network, select the town and publication point from the list. (Our network is intended for sharing opportunities that activate people. The content of your own screen is up to you)
Get your free display management platform
2. Create a community to post announcements and manage your display.
3.  Select «How to get the Pop-Up-Possibilities view on the screen or on your website?»
4. Select the community that manages the display.
5. Select TV as the type.
6. Copy the www link and paste it on your screen as a site selection.
7. Change the display settings to open the desired web page at startup.
8. Adjust your display settings as you wish. The features vary from screen to screen. Note for example:​
Automatic rest periods.
Startup and shutdown schedules​​.
9. If your screen does not support www page selection, ask for our additional device. With the help of our additional device, televisions and computer screens can act as a display.
3|
COULD YOUR INFO DISPLAY BE PART OF THE POP-UP POSSIBILITIES PUBLISHER NETWORK?
​
Screen owners, who join our network, make it possible for positive activities to be highlighted in their own community! The Pop-Up-Possibilities service is designed to function as a part of equal, accessible and highly visible information and information discovery for all.
Our ideology and the functionality of our service are suitable for municipalities, educational institutions, business development organizations and other actors who need to promote the success of their own communities. If you already have a screen or your own website or are in the process of getting one, let's discuss how our service can help you.
In addition to content production that supports your community, PUP is an easy-to-use management service for your information displays. The monthly fee for joining the network is €68 + VAT 24% / publication link. Joining brings all the features of our service to your use. The monthly fees cover the maintenance and development of the service.
Leave a contact request. We will contact you within a couple of days
Contact us
SALES AND SERVICE:
​ ​
Huomentaina Oy​
Kestiläntie 9, 85900 Reisjärvi​
Timo Liimatainen​
040 5532380​
timo.liimatainen@huomentaina.fi
DOES YOUR PEOPLE KNOW WHAT ALL THE OPPORTUNITIES ARE OFFERING IN YOUR AREA?​